Posted by Chip Patterson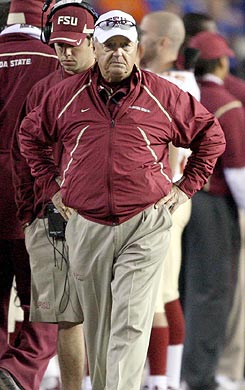 Two years after his retirement from the coaching ranks, legendary
Florida State
head coach
Bobby Bowden
is going public about a health issue that he has kept secret for four years.
In an interview with
USA Today
and also an appearance on ABC's
Good Morning America
, Bowden acknowledged he underwent treatment for prostate cancer in the spring of 2007. The move is being coordinated with his new position as a spokesperson for On The Line, a national cancer education initiative.
"I did not understand the significance of prostate cancer back then,"
Bowden said in an interview with
USA Today.
"What I knew was when something like that happens to a coach and your opponents find out about it, the first thing they say is 'Don't go to Florida State, Coach Bowden is about to die.'
"If I knew then what I know now, I would have considered it my moral duty to bring it out in the open. I thought it was the right thing to do then, but that's not the message now."
Bowden made his announcement on
Good Morning America
as part of September's prostate cancer awareness month. The legendary coach was 77 years old when his cancer was discovered in a routine physical. He then underwent treatment, which was performed by former Florida State football player Joe Camps, and has been cancer free since the procedure.
Bowden's message is erase the macho attitude that many men carry when addressing their own health, and encourage people to go get checked. He will continue his work with On The Line, making appearances at public functions and in public service announcement.
"One of six men is going to have this thing,"
Bowden said
. "That may not seem like much, but if you were flying to Los Angeles and were told that there was one out of six chances the plane would crash, would you get on that plane? I felt good, I was active, I never would have done anything if my doctor hadn't called after my blood tests. The big thing I learned was, don't ignore it and don't be afraid to talk about it."
Keep up with the latest college football news from around the country. From the regular season all the way through the bowl games, CBSSports.com has you covered with this daily newsletter.
|
Preview